Book Club 2015: All the etc. in one post
How I love to read. Reading is a way I both escape the world and try to figure it out, to learn new words and meet new ways of thinking.  If you like, you can check out my posts tagged book club.  Last year I put out a series of them that crowded the blog in the middle of the best-of-the-year posts, so this year I decided to post all the non-professional books here in one post.
The must-reads
BEST OF 2015:
All the Light We Cannot See, Anthony Doerr
Summary from Goodreads:
Marie-Laure lives with her father in Paris near the Museum of Natural History, where he works as the master of its thousands of locks. When she is six, Marie-Laure goes blind and her father builds a perfect miniature of their neighborhood so she can memorize it by touch and navigate her way home. When she is twelve, the Nazis occupy Paris and father and daughter flee to the walled citadel of Saint-Malo, where Marie-Laure's reclusive great-uncle lives in a tall house by the sea. With them they carry what might be the museum's most valuable and dangerous jewel.
In a mining town in Germany, the orphan Werner grows up with his younger sister, enchanted by a crude radio they find. Werner becomes an expert at building and fixing these crucial new instruments, a talent that wins him a place at a brutal academy for Hitler Youth, then a special assignment to track the resistance. More and more aware of the human cost of his intelligence, Werner travels through the heart of the war and, finally, into Saint-Malo, where his story and Marie-Laure's converge.
My take on it:
This Pulitzer Prize winner might be my favorite book I've read in quite some time.  I appreciate Doerr introducing me to Werner and humanizing the German soldier, a perspective often missing in World War II-era literature, one of my favorite genres (in case you couldn't tell).
The Boys in the Boat, Daniel James Brown
Summary from Goodreads:

Daniel James Brown's robust book tells the story of the University of Washington's 1936 eight-oar crew and their epic quest for an Olympic gold medal, a team that transformed the sport and grabbed the attention of millions of Americans. The sons of loggers, shipyard workers, and farmers, the boys defeated elite rivals first from eastern and British universities and finally the German crew rowing for Adolf Hitler in the Olympic games in Berlin, 1936.
The emotional heart of the story lies with one rower, Joe Rantz, a teenager without family or prospects, who rows not for glory, but to regain his shattered self-regard and to find a place he can call home. The crew is assembled  by an enigmatic coach and mentored by a visionary, eccentric British boat builder, but it is their trust in each other that makes them a victorious team. They remind the country of what can be done when everyone quite literally pulls together—a perfect melding of commitment, determination, and optimism.
Drawing on the boys' own diaries and journals, their photos and memories of a once-in-a-lifetime shared dream, The Boys in the Boat is an irresistible story about beating the odds and finding hope in the most desperate of times—the improbable, intimate story of nine working-class boys from the American west who, in the depths of the Great Depression, showed the world what true grit really meant.
My take on it: Stunning. I couldn't put it down.  A captivatingly written account of hard work and triumph in one of my favorite time periods to read about.
Same Kind of Different as Me, Ron Hall & Denver Moore
Summary from Goodreads:
Meet Denver, a man raised under plantation-style slavery in Louisiana in the 1960s; a man who escaped, hopping a train to wander, homeless, for eighteen years on the streets of Dallas, Texas. No longer a slave, Denver's life was still hopeless—until God moved. First came a godly woman who prayed, listened, and obeyed. And then came her husband, Ron, an international arts dealer at home in a world of Armani-suited millionaires. And then they all came together. 
But slavery takes many forms. Deborah discovers that she has cancer. In the face of possible death, she charges her husband to rescue Denver. Who will be saved, and who will be lost? What is the future for these unlikely three? What is God doing?
My take on it: Every single person who puts money in a jar in front of someone on a sidewalk and wonders how they can really make a difference should read this book.  I was challenged and inspired and brought to tears.  The quote from Denver that will stay with me for a long time:
I heard that when white folks go fishin they do somethin called 'catch and release.'  That really bothers me. I just can't figure it out.  'Cause when colored folks go fishin, we really proud of what we catch, and we take and show it off to everybody that'll look.  Then we eat what we catch… in other words, we use it to sustain us.  So it really bothers me that white folks would go to all that trouble to catch a fish, then when they done caught it, just throw it back in the water.  So, Mr. Ron, it occurred to me: If you is fishin for a friend you just gon' catch and release, then I ain't got no desire to be your friend.
I'm struggling right now with a couple of relationships with women who need a friend and need help and I don't know what to do or how to be both or where to draw boundaries or whether I can handle more neediness; I've been pondering whether they are looking for a friend to catch and release, or whether I am.  Read this.
Big Little Lies, Liane Moriarty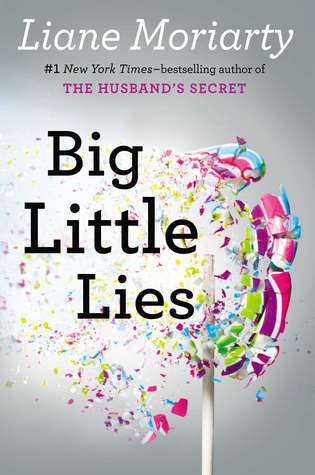 Summary from Goodreads:
Madeline is a force to be reckoned with. She's funny and biting, passionate, she remembers everything and forgives no one. Her ex-husband and his yogi new wife have moved into her beloved beachside community, and their daughter is in the same kindergarten class as Madeline's youngest (how is this possible?). And to top it all off, Madeline's teenage daughter seems to be choosing Madeline's ex-husband over her. (How. Is. This. Possible?).
Celeste is the kind of beautiful woman who makes the world stop and stare. While she may seem a bit flustered at times, who wouldn't be, with those rambunctious twin boys? Now that the boys are starting school, Celeste and her husband look set to become the king and queen of the school parent body. But royalty often comes at a price, and Celeste is grappling with how much more she is willing to pay.
New to town, single mom Jane is so young that another mother mistakes her for the nanny. Jane is sad beyond her years and harbors secret doubts about her son. But why? While Madeline and Celeste soon take Jane under their wing, none of them realizes how the arrival of Jane and her inscrutable little boy will affect them all.

My take on it: Australian Liane Moriarty is definitely one of my new favorite authors.  "Gripping" is an understatement.  She pulls off gripping and funny with an expertly crafted plot.  I'm also a fan of The Husband's Secret, which I would categorize below under "worth your time" but this one had to be a must-read.  The way the book was written captivated me, the way the plot turned stunned me, the characters made me want to change and keep my eyes open and compassion ready.
Worth your time
The Girl on the Train, Paula Hawkins
Summary from Goodreads:
Rachel takes the same commuter train every morning. Every day she rattles down the track, flashes past a stretch of cozy suburban homes, and stops at the signal that allows her to daily watch the same couple breakfasting on their deck. She's even started to feel like she knows them. "Jess and Jason," she calls them. Their life—as she sees it—is perfect. Not unlike the life she recently lost.
And then she sees something shocking. It's only a minute until the train moves on, but it's enough. Now everything's changed. Unable to keep it to herself, Rachel offers what she knows to the police, and becomes inextricably entwined in what happens next, as well as in the lives of everyone involved. Has she done more harm than good?
My take: This book is on everyone's best-of-2015 for good reason.  You might need a pot of coffee to help you pull an all-nighter with it.  Rachel with her life spiraling out of control draws you in and keeps you thinking, "But it could be me."
Babies, Bullets, & Bee Stings, Hannah McDowell
Summary from Amazon:
In this fast-paced account of a farm-girl from a preacher's home who develops into a medical missionary, the reader is treated to a first-person account of what life is like on various mission fields in Central America. Her story spans baby deliveries by flashlight to veterinary-level treatment of injured horses-while the town's folk watch in awe. Her experiences reveal a brave mother and wife whose singular purpose in life is to share the Gospel with as many as possible. After graduating from a prestigious medical college, Hannah turned away from an incredibly large salary offer as a certified nurse-midwife-only to practice medical nursing on dirt floors and primitive clinics. This volume takes the reader to the front lines of missionary life and service, and reveals to the rest of us what it means to serve God in other lands. 
My take on it: A good friend had gotten a copy of this book from the author and handed it to me to read.  I took it on a family trip and came away with better definitions of the words brave and service.  I can tell you that after the Haiti earthquake I wasn't trying to find the nearest plane that was bound for the island.
All Quiet on the Western Front, Erich Maria Remarque
Summary from Goodreads:
This is the testament of Paul Bäumer, who enlists with his classmates in the German army of World War I. These young men become enthusiastic soldiers, but their world of duty, culture, and progress breaks into pieces under the first bombardment in the trenches. 
Through years of vivid horror, Paul holds fast to a single vow: to fight against the hatred that meaninglessly pits young men of the same generation but different uniforms against one another… if only he can come out of the war alive.
My take on it: I try to read at least one classic per year and this was a good one.  I read about the wars and evil in the past to remind myself of what we're capable of when we let our innate selfishness have free reign.  This was a book I knew that Hitler had banned, and I knew the author's last name was Remarque.  So, I assumed it was a Frenchman who wrote the book from the Allied perspective even though that made "the Western Front" make little sense.  The German perspective was a surprise to me.  It's not an easy read but it's easy to read and worth your time.
Second Forgetting
Summary from Goodreads:
Alzheimer's disease has been described as the 'defining disease' of the baby boomer generation. Millions of Americans will spend much of their retirement years either caring for a loved one with Alzheimer's disease or experiencing its effects on their lives firsthand. When a person is diagnosed with Alzheimer's, they face great uncertainty, knowing that they can expect to live their remaining years with increasing confusion and progressively greater reliance upon other people to care for them. As the disease advances it seems to overwhelm a person, narrowing their focus and leading them to forget critical truths about the Lord, their life with him, and his promises.
Through the personal stories of those affected and the loved ones who care for them, Dr. Benjamin Mast highlights the power of the gospel for those suffering from Alzheimer's disease. Filled with helpful, up-to-date information, Dr. Mast answers common questions about the disease and its effect on personal identity and faith as he explores the biblical importance of remembering and God's commitment to not forget his people. In addition, he gives practical suggestions for how the church can come alongside families and those struggling, offering help and hope to victims of this debilitating disease.
My take on it: Someone at my husband's work knew that my family was dealing with my mother's dementia.  It's not Alzheimer's, but rather Parkinson's dementia, but when she can't remember why she called me, and every day she finds out for the first time that we're coming for Christmas, it seems much the same.  I appreciate that coworker passing this book along to us, as it helped me learn more about dementia and how to help and understand my mom better.  I sent it to my sister-in-law, who is now my mother's primary caregiver.  I highly recommend this book to any Christian dealing with a loved one's dementia – or one who has been diagnosed with this terrible process.
Tell the Wolves I'm Home, Carol Rifka Brunt
Summary from Goodreads: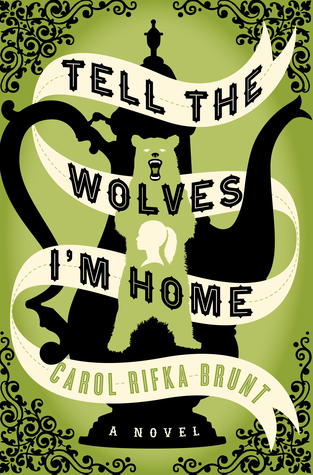 1987. There's only one person who has ever truly understood fourteen-year-old June Elbus, and that's her uncle, the renowned painter Finn Weiss. Shy at school and distant from her older sister, June can only be herself in Finn's company; he is her godfather, confidant, and best friend. So when he dies, far too young, of a mysterious illness her mother can barely speak about, June's world is turned upside down. But Finn's death brings a surprise acquaintance into June's life – someone who will help her to heal and to question what she thinks she knows about Finn, her family, and even her own heart.
At Finn's funeral, June notices a strange man lingering just beyond the crowd. A few days later, she receives a package in the mail. Inside is a beautiful teapot she recognizes from Finn's apartment and a note from Toby, the stranger, asking for an opportunity to meet. As the two begin to spend time together, June realizes she's not the only one who misses Finn, and if she can bring herself to trust this unexpected friend, he just might be the one she needs the most.
My take on it: What adolescent hasn't harbored forbidden feelings for a fantastic adult that cared for them (in a loving and totally not creepy way)?  For many, that person is a teacher.  For June, it's her uncle- adult, related to her, and gay.  But her sweet, best-friend relationship with him is touching and sweet (and totally non-creepy) and you feel the loss with her when he dies.  If you remember the mid-eighties (I only barely do) and the height of the terror the AIDS epidemic brought when it exploded into the world, you'll recognize that era, when the disease just barely had a name everyone recognized and a stigma and a hopelessness that no one knew what to do with.  It'll be worth your time to spend a few hours watching June come of age while bringing her family and the human face of AIDS together.
For more reading on the subject and the era that you'll find worth your time, check out AIDS and Accusations: Haiti and the Geography of Blame, and you'll also want to listen to Radio Ambulante's captivating podcast on When Havana Was Friki.
The Promised One: Seeing Jesus in Genesis
Summary from Goodreads:
After the resurrection, when Jesus used Scripture to explain who he was and why he came, where did he start? In the Old Testament. And this is where The Promised One begins to look for Christ, finding him in the people, promises, and patterns of the Old Testament scriptures.
With contagious passion and theological soundness, Bible teacher Nancy Guthrie shows how the book of Genesis points us to the person of Christ. Throughout ten weeks of guided personal study, relevant teaching, and thoughtful discussion questions, The Promised One will help you: make new discoveries of Jesus as seen in the shadows of the Old Testament;apply the gospel found in Genesis to issues such as shame, fear, and the desire for security and significance; develop your longing for what is ahead when the world is once again made new.
My take on it: The best Bible-study guide I have done in a long time.  Looking at the Old Testament through the eyes of the New Testament has been amazing.  I'm going through the second book right now and plan to do all five.  It's written as a 10-week or 20-week group study but it's great as a self-paced study as well. (I meet with a friend once a month to talk about it.)
The Goldfinch
Summary from Goodreads: 
It begins with a boy. Theo Decker, a thirteen-year-old New Yorker, miraculously survives an accident that kills his mother. Abandoned by his father, Theo is taken in by the family of a wealthy friend. Bewildered by his strange new home on Park Avenue, disturbed by schoolmates who don't know how to talk to him, and tormented above all by his unbearable longing for his mother, he clings to one thing that reminds him of her: a small, mysteriously captivating painting that ultimately draws Theo into the underworld of art.
As an adult, Theo moves silkily between the drawing rooms of the rich and the dusty labyrinth of an antiques store where he works. He is alienated and in love-and at the center of a narrowing, ever more dangerous circle.
The Goldfinch combines vivid characters, mesmerizing language, and suspense, while plumbing with a philosopher's calm the deepest mysteries of love, identity, and art. It is an old-fashioned story of loss and obsession, survival and self-invention, and the ruthless machinations of fate.
My take on it: 
I was so blown away by All the Light We Cannot See that I thought I'd take on its predecessor in the list of Pulitzer novels.  And truly, it's a beautifully written book with a beautifully crafted plot.  I learned more about drugs and gambling than I ever knew before.  And I learned a lot more about art.  But I will also warn you: It is really long.  When you get past 300 pages and you're not at 50% yet… really, really long.
The book is about how his mother's favorite painting shapes Theo's life for years. Here's a quote that best communicates the book's theme:
Idolatry! Caring too much for objects can destroy you.  Only–if you care for a thing enough, it takes on a life of its own, doesn't it? And isn't the whole point of things–beautiful things–that they connect you to some larger beauty? Those first images that crack your heart wide open and you spend the rest of your life chasing, or trying to recapture, in one way or another?
Really, really long.  But worth your time.
Shopaholic Ties the Knot
Summary from Goodreads:
Life has been good for Becky Bloomwood: She's become the best personal shopper at Barneys, she and her successful entrepreneurial boyfriend, Luke, are living happily in Manhattan's West Village, and her new next-door neighbor is a fashion designer! But with her best friend, Suze, engaged, how can Becky fail to notice that her own ring finger is bare? Not that she's been thinking of marriage (or diamonds) or anything . . . Then Luke proposes! Bridal registries dance in Becky's head. Problem is, two other people are planning her wedding: Becky's overjoyed mother has been waiting forever to host a backyard wedding, with the bride resplendent in Mum's frilly old gown. While Luke's high-society mother is insisting on a glamorous, all-expenses-paid affair at the Plaza. Both weddings for the same day. And Becky can't seem to turn down either one. Can everyone's favorite shopaholic tie the knot before everything unravels?
My take on it: British author Madeleine Sophie Wickham a.k.a. Sophie Kinsella is another new favorite author for me.  I've Got Your Number was laugh-out-loud hilarious (movie, please) and I've also loved her Shopaholic series.  I read these when I need something to occupy my mind without making me think, such as on the four-hour flight from Atlanta to San Diego for ACTFL '15.  Protagonist Becky Bloomwood is hysterically bumbling and gets herself into the deepest predicaments, and I have absolutely no idea how she could possibly get out of them until Kinsella shocks me with the perfect aha! solution.
Meh
These are the books I read but doubt you'd find worth your time (if you're me, that is).
Touchstone, Laurie King
Summary from Goodreads:
Hailed for her rich and powerful works of psychological suspense as well as her New York Times bestselling mysteries, Laurie R. King now takes us to a remote cottage in Cornwall where a gripping tale of intrigue, terrorism, and explosive passions begins with a visit to a recluse upon whom the fate of an entire nation may rest—a man code-named … Touchstone.
It's eight years after the Great War shattered Bennett Grey's life, leaving him with an excruciating sensitivity to the potential of human violence, and making social contact all but impossible. Once studied by British intelligence for his unique abilities, Grey has withdrawn from a rapidly changing world—until an American Bureau of Investigation agent comes to investigate for himself Grey's potential as a weapon in a vicious new kind of warfare. Agent Harris Stuyvesant desperately needs Grey's help entering a world where the rich and the radical exist side by side—a heady mix of the powerful and the celebrated, among whom lurks an enemy ready to strike a deadly blow at democracy on both sides of the Atlantic.
Here, among a titled family whose servants dress in whimsical costumes and whose daughter conducts an open affair with a man who wants to bring down the government, Stuyvesant finds himself dangerously seduced by one woman and—even more dangerously—falling in love with another. And as he sifts through secrets divulged and kept, he uncovers the target of a horrifying conspiracy, and wonders if he can trust his touchstone, Grey, to reveal the most dangerous player of all ….
My take on it: I like a good suspense novel, and this one had a touch of fantasy with Grey's mystery psychological talent, which was interesting.  Overall, in a word, it was predictable.  I finished it – all 500+ pages of it – to get to the end and find out if I was right, and I was.
California, Edan Lepucki
Summary from Goodreads:
The world Cal and Frida have always known is gone, and they've left the crumbling city of Los Angeles far behind them. They now live in a shack in the wilderness, working side-by-side to make their days tolerable despite the isolation and hardships they face. Consumed by fear of the future and mourning for a past they can't reclaim, they seek comfort and solace in one other. But the tentative existence they've built for themselves is thrown into doubt when Frida finds out she's pregnant. 
Terrified of the unknown but unsure of their ability to raise a child alone, Cal and Frida set out for the nearest settlement, a guarded and paranoid community with dark secrets. These people can offer them security, but Cal and Frida soon realize this community poses its own dangers. In this unfamiliar world, where everything and everyone can be perceived as a threat, the couple must quickly decide whom to trust.
My take on it: I occasionally like to delve into the post-apocalyptic realm in movies and books, but I need it to seem actually realistic (I couldn't stomach more than 20 pages of Divergent).  This one wasn't predictable, with several twists I didn't expect, but it moved kind of slowly, and it was cheesy.  All the capital letters you need for renaming stuff in the post-apocalyptic world.  The Spikes.  The Forms.  The Pirates.  The Land.  The Communities.  It made me laugh, and it wasn't meant to be funny.  I think I'll try One Second After next time.  No idea why this one was on NPR's books of the year.
NOS4A2, Joe Hill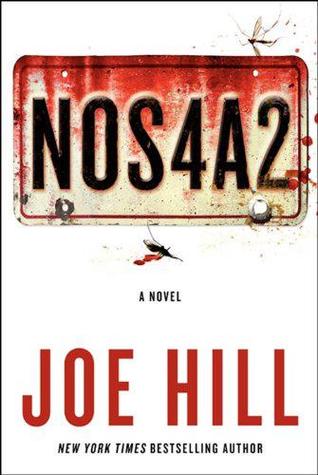 Summary from Goodreads:
Victoria McQueen has a secret gift for finding things: a misplaced bracelet, a missing photograph, answers to unanswerable questions. On her Raleigh Tuff Burner bike, she makes her way to a rickety covered bridge that, within moments, takes her wherever she needs to go, whether it's across Massachusetts or across the country.
Charles Talent Manx has a way with children. He likes to take them for rides in his 1938 Rolls-Royce Wraith with the NOS4A2 vanity plate. With his old car, he can slip right out of the everyday world, and onto the hidden roads that transport them to an astonishing – and terrifying – playground of amusements he calls "Christmasland."
Then, one day, Vic goes looking for trouble—and finds Manx. That was a lifetime ago. Now Vic, the only kid to ever escape Manx's unmitigated evil, is all grown up and desperate to forget. But Charlie Manx never stopped thinking about Victoria McQueen. He's on the road again and he's picked up a new passenger: Vic's own son.
My take on it: I should have quit with this as soon as I found out that Joe Hill is actually Stephen King's son.  This book was very interesting, but the freakish life-stealing dictator of Christmasland who drives around catching children in real reality so he can take them to alternate reality… which can also be occasionally visited by a girl with a very special bike… and an unhealthy dose of profanity, it's way way out of my preferred genres.  I started what I thought would be a suspense book with a very creative plot and ended up reading a horror book with a very creative plot.  I guess you should push yourself sometimes?  Or maybe not quite that far.
Got any recommendations for 2016?  I'd love to hear what you're reading and you can also connect with me on Goodreads.