Novice description with a deep cultural AP twist
Who are the most beautiful of the beautiful?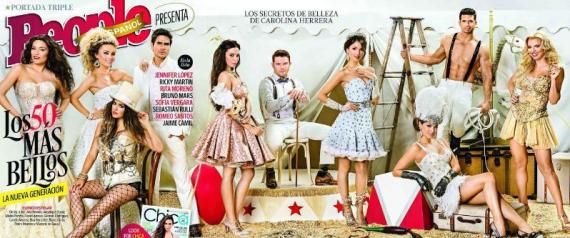 Let's take a basic novice skill that we all have in all our curricula:
I can describe someone using common adjectives.
We've all seen and done a million activities to get students practicing description.  Today, let me offer another alternative, one that offers a deep, critical-thinking aspect to this Can Do statement and brings an AP theme (Beauty and Aesthetics) down to your Spanish 1 class.
People Magazine annually dares to don the right to define who are the most beautiful people in the world, and we breathlessly offer them that right as we eagerly sacrifice our self-esteem on the altar of "if only."
As your students practice using physically descriptive adjectives, what if you asked them to take a look at the "most beautiful of the most beautiful" – the 24 people who have been elected to People's list of Latino/a beauties five or more times?  What if you asked them to make a list of possible adjectives and check off the ones that describe each "beauty"?  Where would the check marks fall?
Blonde? Dyed? (You betcha.)
Indigenous? (Not one.)
Black? (No way.)
What about by gender? The darkest by far are male: Luis Fonsi and Shalim Ortiz are as dark as the

most beautiful

are allowed to come.
Eye color?
White, relatively? (Of course.)
Thin? (You know the answer to that one.)
Asking for the description is the easy part.  Asking why and then what to do about it – now there's the real question. But at the end of such an exercise, students will certainly have a better idea about what Latina girls and Latino boys are being told is beautiful.  And then? What about comparing the rankings with the U.S. English versions?  With what Lupita Nyong'o has to say about her journey to the top?
Asking tough questions in low novice classes – that's a challenge.  But here's one that fits and is worth the asking.
And then Thomas Sauer comes along and asks me a question that gets me thinking:
I wonder if the problem is the original learning target. What if the question was embedded there?
In that light, I wonder if we could embed cultural, critical thinking in all our Can Do statements, even the Novice ones:
I can list characteristics of a person People en Español would consider the most beautiful and of a person I would consider the most beautiful.
How's that for turning a Novice Can Do on its head?