Podcast Episode 4: To Sell Is Human, Part 2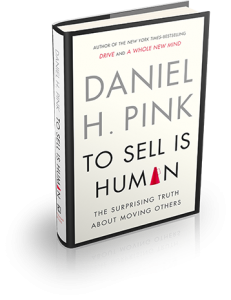 If you listened to episode 3 of the Musicuentos Black Box Podcast, you heard all about the first two parts on Daniel Pink's book on influencing others, To Sell Is Human, including why all of us (and especially those of us in education) are in sales now, and what we should be in order to effectively move others.
In this second part of the special book review podcast, I go over the most practical part of Pink's book, what he says we should do, what we should actually put into practice as we develop a message that tells students, "Hey, my class is worth your time, because it will change the world."  When I say practical, I mean you will come away from this podcast with ideas for how to make signs, bulletin boards, beginning-of-unit presentations, and more in ways that reach your students' intrinsic motivation and move them.
As you listen, see if you can figure out why I gave this blog post the title I did, and don't forget to use the contact form, Facebook, or Twitter to share with me what you think my pitch is in three words.
If you prefer, you can read the script here.
Title: To Sell Is Human
Author: Daniel Pink
Publication information: Riverhead Books (2012)
Podcast date: Episode 4: May 19, 2014